Vest of Actor József Tamássy OR Tamássy's Telling Calling Card
May, 2019
Museum of Ethnography artefact no. 17899, an undocumented vest, lay quietly in the storeroom of the institution's Textiles and Costumes Collection for more than a hundred years. The piece had come to the museum in 1898 with a sizeable collection from the Museum of Applied Arts consisting primarily in objects related to Hungarian cottage industry for display at the 1873 World's Fair.
Certainly, the highly decorative vest, which illustrates the full range of the Hungarian tailor's special technical skills, looks like an item crafted specially for exposition – a showpiece that is actually two vests in one: wheat-flower-blue felt decorated with beige cordwork on one side, and maroon felt decorated with black cordwork on the other, coupled with pockets inside and out and an appropriately fashioned strip of buttons that render it fully reversible.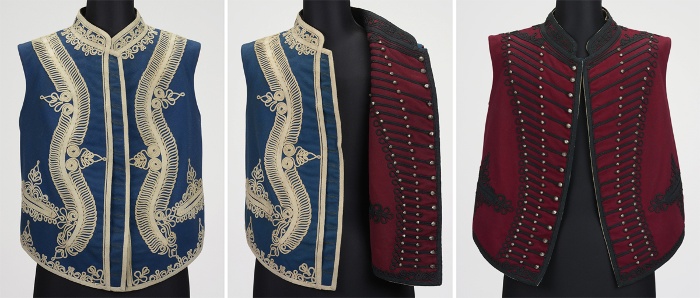 The piece's true story, however, emerged only upon the discovery in one of the above-mentioned pockets of a pair of calling cards belonging to "József Tamássy, Actor," the reverse sides of which bore inscriptions in the original bearer's own hand-writing: "Given as a souvenir to József Tamássy by Antal Doby on 26 September 1886" and "Donated to the Museum of Applied Art by József Tamássy".
Although the name József Tamássy (1837-1892) may not sound particularly familiar today, in the 1870s, the man who bore it was the uncrowned king of Hungarian folk theatre and the permanent partner of actress and singer Lujza Blaha. Tamássy, whose career began in 1856, eventually contracted with the National Theatre in 1869 and later became a member of the Népszínház, or People's Theatre. As one of his admirers once expressed: "With his magical Magyar charm and luscious singing voice, he was the only male actor of his time to successfully breathe life into the dying [folk theatre] genre. (....) In Lujza Blaha, Tamássy found a partner who was a perfect and worthy match for him in every respect. The most compatible of teams (...), the two of them launched a new era in the history of popular folk theatre, and restored the forcibly and unduly gentrified Budapest of the Bach government to its former Hungarian character." Tamássy frequently played the part of the bandit or horseman – roles that leaked over into his private life: it was not unusual for him to be seen in public wearing Hungarian costumes with a traditional shepherd's mantle and axe (known as a fokos). His popularity derived not only from his theatrical talent and winning appearance, but also his singing skill, which rocketed any number of Hungarian "folksongs" (in reality folk-style art songs) to the status of popular hits. The era even witnessed the publication of a collection of his favourite tunes in sheet music form.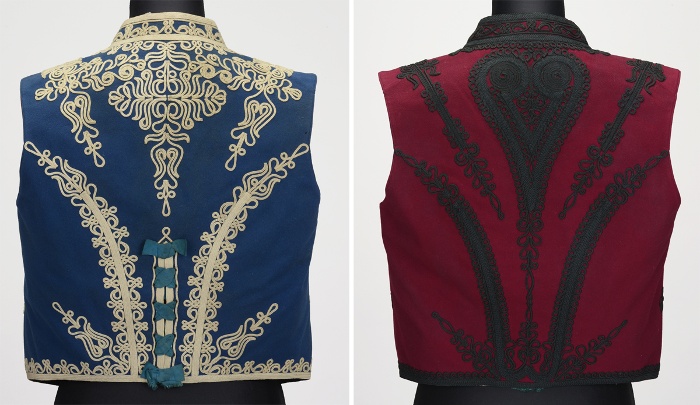 Given Tamássy's high public profile, it was not terribly difficult to reconstruct the story of the museum's vest from contemporary press reports. The piece had indeed been produced in 1886 for use in an exhibition: a labour exhibition organised for the 30-year Jubilee of the Central Catholic Journeymen's Society. According to reports, Antal Doby was a young tailoring apprentice who had "offered the vest to Tamássy as an authentic embodier of Hungarian folk characters and patriotic promoter of the Hungarian language. [Doby] requested permission to pin a label to the piece reading 'property of gentleman actor József Tamássy' as early as the time of its exhibition. Tamássy accepted the offer and proceeded to have his measurements taken." The vest was awarded a gold certificate at the exhibition, after which, in October of 1886, it was presented to its new owner. According to a contemporary news item, "Tamási accepted the gift gladly and promised both to wear it often on stage, and to leave it to the National Museum upon his death. In return, the artist gave the tailor a beautifully worked gold ring inscribed with Tamási's monogram."
The vest's recipient could not have used it much as an actor, however, as he succumbed to a seizure in his dressing room prior to a performance of the Bandit's Scarf in June of 1887 and never set foot on stage again. Gradually, the increasingly anachronistic popular folk theatre genre fell out of fashion and was replaced by the operette.
The Hungarian popular folk play was a peculiar product of the 19th century, an important vehicle for the promotion of the Hungarian language, national self-awareness, and patriotic feeling, in which the folk-style art song, Hungarian folk dance, and traditional Magyar clothing – including peasant costumes – played an increasingly prominent role. Tamássy, for example, was among those responsible for popularising the stage use of the traditional Hungarian shepherd's coat (the appliquéd felt cifraszűr) and (more gradually) loose peasant trousers (gatya) – though in black silk, rather than the traditional white plainweave form. The peasant waistcoat or vest was worn by men wearing breeches, or loose-cut trousers, a double use to which Antal Doby's reversible solution may stand as a testament. Actors frequently rented the most decorative pieces, or – on occasion – received them as gifts from tailors: Tamássy had previously received a cifraszűr in this way.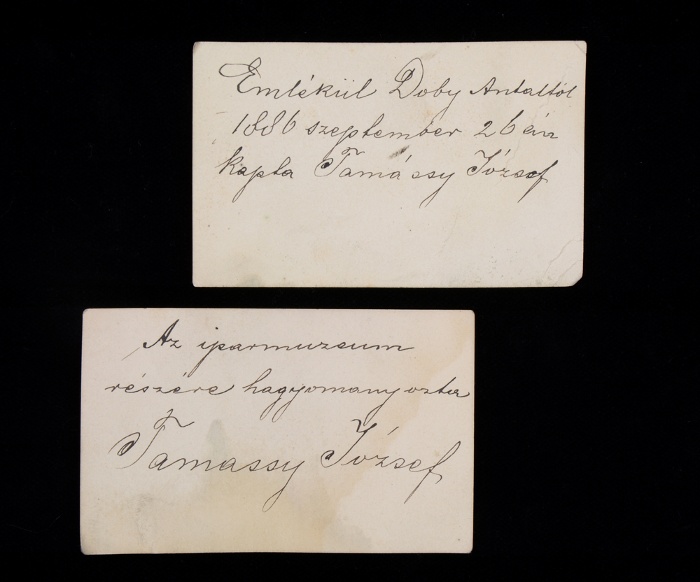 Thus, Antal Doby's gift was not a one-off phenomenon.
The success of the above inquiry notwithstanding, there is still a line of research to pursue with regard to this intriguing piece of history: could Antal Doby, the tailor's apprentice, be related to – or perhaps even the son of – Antal Doby, the master tailor? The same man who – though of noble lineage – had failed to learn the cantor's profession from his cantor instructor father and later settled in Tiszaújlak to found a Catholic journeymen's society, establish Hungary's first lending library, and publish as an amateur family and industrial historian? Whether or not this connection can be made, the two men are similar in that they both belonged to the social stratum of educated industrialists who – as opposed to merely paying lip service to Hungarian culture, language, and industry – made concrete sacrifices on the country's behalf.

Mónika Lackner