Gyula Grünbaum's Prayer Shawl
January, 2020
The principle feature that sets anthropology and ethnography apart from other scientific disciplines is their reliance on fieldwork, a methodological technique that can take a variety of forms and play out in a range of different places. In some cases, even the museum itself – a space where scientific knowledge and object-specific information are intertwined and a knowledge of material culture encompassing numerous forms is acquired and transferred – can be a setting for fieldwork. Exemplifying this is the Museum of Ethnography's "artefact of the month" for January: a prayer shawl formerly owned by Sopronkeresztúr Jewish merchant Gyula Grünbaum.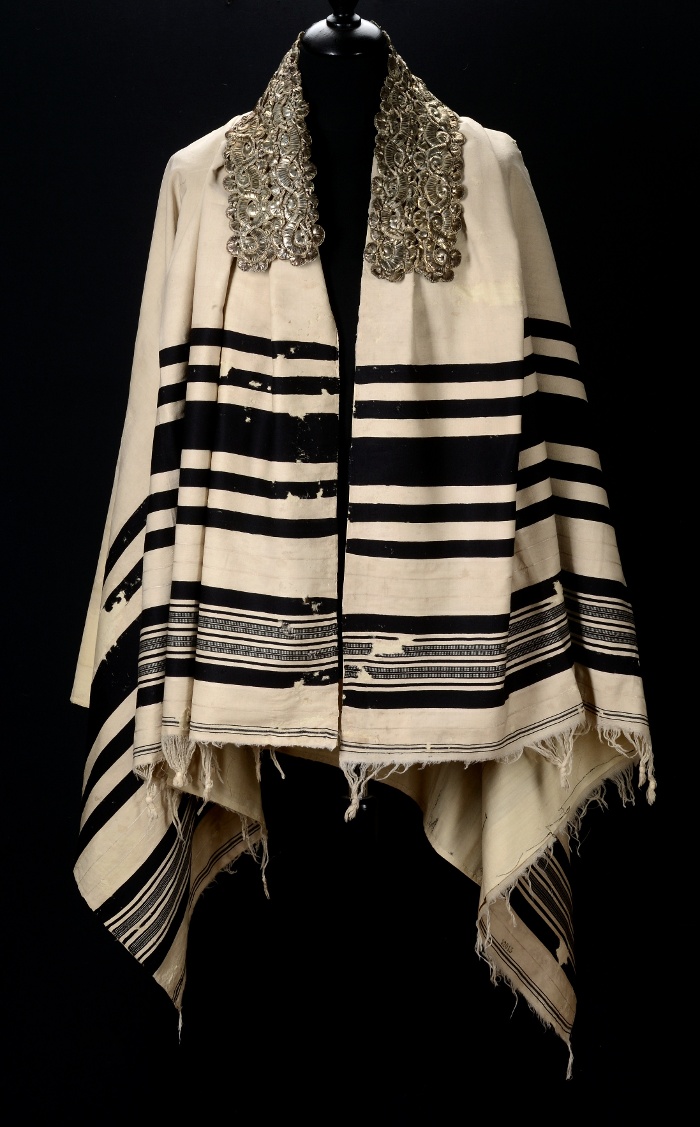 The character of the museum's Jewish holdings mirrors that of its overall collection, in that most of the material was acquired during the early 20th century, the period in which the majority of artefacts from Hungarian-speaking territories were assembled. It was an era in which collection development involved not only trained field ethnographers, but also arts and antiquities dealers, members of the local intelligentsia, and even professional educators. Indeed, one of the key figures in early 20th-century ethnographic collection was merchant Gyula Grünbaum, who contributed a total of 1044 objects to museum holdings during the period from 1909 to 1929. The Grünbaum material comprises objects related to folk crafts and trades, textiles, and pastoral culture, in large part eminent representatives of the folk art genre, including many unique pieces that filled conceptual gaps in the collection and – conspicuously – attested to the collector's excellent eye and impeccable tastes.
Of Grünbaum's life relatively little is known. He was born in 1862 in Farád, Sopron County, where he would later work as a teacher. His subsequent move to Sopronkeresztúr (Németkeresztúr, today Deutschkreutz, Austria), where he worked as a merchant, was prompted by marriage. Grünbaum conducted systematic collecting work primarily in Transdanubia. Though only 52 of the artefacts attributed to him bear a connection to Judaism, the sub-group in question is of considerable significance in that it represents a slice of rural Hungarian Jewish life otherwise faded into obscurity. The majority (42 pieces, presumably items that had fallen out of use) were purchased in Sopronkeresztúr between 1911 and 1913 and constitute vestiges of an archaic form of Jewish culture.
Though the artefacts in the Grünbaum collection were only sparsely annotated upon acquisition, "museum storeroom research" has succeeded in uncovering at least some of the story they have to tell. This process commenced – in some cases – with the examination of the institution's original inventory tags, which provided information on such topics as use and the nature of pertinent rituals. Some of them – such as a prayer phylactery bag (bajtli; inv. no. 92017) or a fringe-less prayer shawl (tallit; inv. no. 92015) – are marked with the monogram "J. G." for "Julius Grünbaum" and are therefore presumed to have come from the collector's own personal belongings.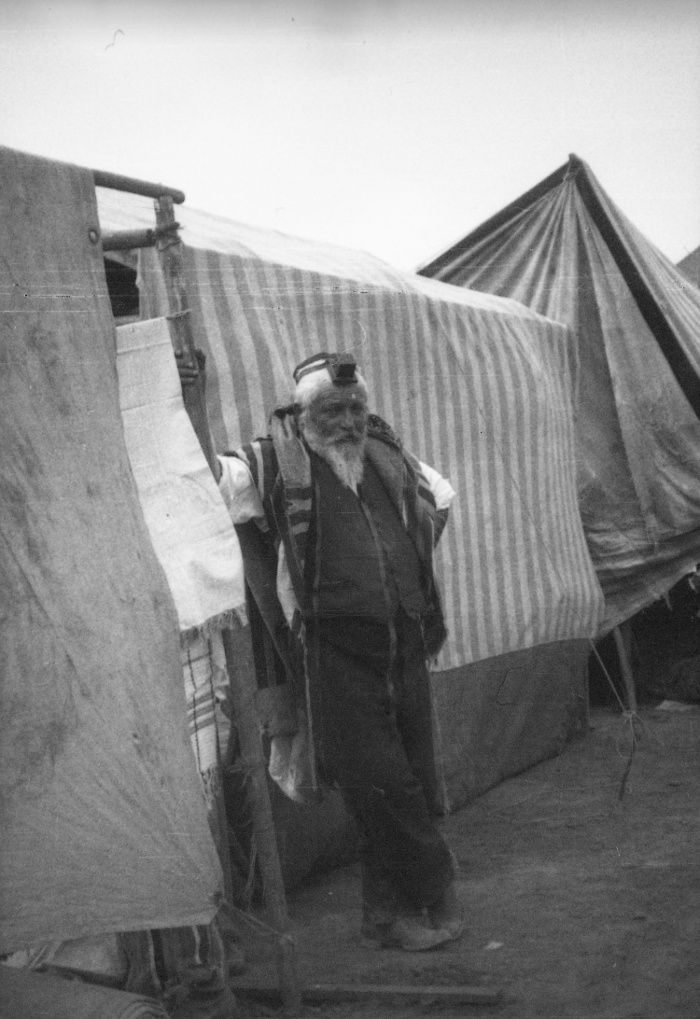 The latter of these, the tallit, is one of the more familiar accessories used by Jewish men for morning prayer. In fact, it is not the tallit itself, but the tassels and knots found at its four corners that, according to the laws of Moses, bear sacred meaning, reminding the wearer of the Jewish people's covenant with God and the obligation of upholding religious law. Most tallitot were made of wool, cotton, or silk and were either of one colour, or featured black or white stripes. In many cases, the neck section was decorated with embroidery or silver thread (atara).
Because it is missing its fringes (tzitzit), this particular shawl, which is made of wool, has lost its value as a sacred object. Presumably, it was only in this way that the collector felt it possible to contribute such an item to the museum's collection. It is a piece that not only furnishes a unique example of how storeroom fieldwork can transform object into museum piece, but also offers a glimpse of a pious Jewish man from Sopronkeresztúr whose face has been lost to history, and his relationship to the artefacts the museum still attributes to his name.
Zsuzsa Szarvas
Photographs:
Sarnyai Krisztina
Prayer Shawl (tallit)
Sopronkeresztúr, Sopron County (today: Deutschkreutz, Austria)
1911
NM 92015
István Györffy
Jewish man with tefillin (prayer phylacteries) and tallit (prayer shawl) preparing for prayer behind a market tent
Hortobágy, Hajdú County. Hungary 1928
NM F 176091