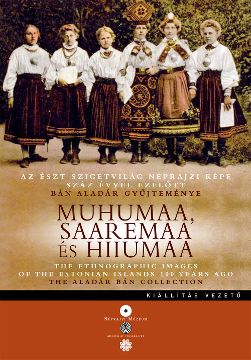 The Etnhographic Images of the Estonian Islands 100 Years Ago
The Aladár Bán collection
Exhibition Guide
Néprajzi Múzeum, Budapest, 2012. 64 p.
In Hungarian with English summary
1,500 Ft
A "Saaremaa, Muhumaa és Hiiumaa" című, az azonos elnevezésű észt kiállításhoz kapcsolódó 64 oldalas vezető, mely a kiállítási tematikát követve bemutatja Bán Aladár munkásságát, 1911-es észtországi gyűjtőútját, annak állomásait. Bán Aladár 1911 júliusától, szeptember elejéig tartózkodott Észtországban, ahova konkrét célokkal érkezett. Nemcsak a Kalevipoeg megjelenésének 50. évfordulójára rendezett jubileumi ünnepségre kapott meghívást, hanem előtte, észt segítői jóvoltából, egy gyűjtéssel egybekötött körutazást is tett az országban. Úti beszámolóin, írásain és gyűjtésén keresztül mutatja be a kiállítási vezető a 20. század eleji észt szigetvilág néprajzi képét, az egyes szigetek közötti hasonlóságokat és különbségeket, valamint azokat a jellegzetességeket, melyek az észt népművészet egyediségét, sajátosságát jelentik. A vezetőben visszaköszönnek a kiállításban látott tárgyak, a muhui narancssárga viseletek, de láthatjuk Bán Aladár üveglemezre készített fényképfelvételeit is.

A kiállítási vezetőt Kerezsi Ágnes írta, a műtárgyfotókat Kerék Eszter készítette.