The Umling Family
Makers of Fine Painted Furniture in 18th-Century Transylvania
5/May/2007 - 30/Sep/2007
Wether the topic be of churches or of furniture, one rarely hears of the painted carpentry of Kalotaszeg without also encountering the name of Umling. First brought to the public's attention by János Jankó, the "carpenter-painter" trio of Lőrinc Umling Sr. and his sons, Lőrnic Jr. and János Umling played a decisive role in the decorative arts of the Kalotaszeg region from the 1740s through the 1790s, and had a powerful effect on future centuries, as well.
The decorative elements brought to Hungary by the Umlings - motifs founded in the Italian renaissance that were originally provincial but that later acquired an increasingly folk flavour - eventually melted into the nation's folk art to live on in the ecclesiastical woodwork and furnishings of the 19th century. The Umlings, headed by Lőrinc Umling Sr., a master craftsman of Saxon ancestry, worked on nearly 40 different churches in Kalotaszeg and the surrounding area. The Museum of Ethnography owns several of his painted ceilings, church furnishings, and made-to-order bridal chests.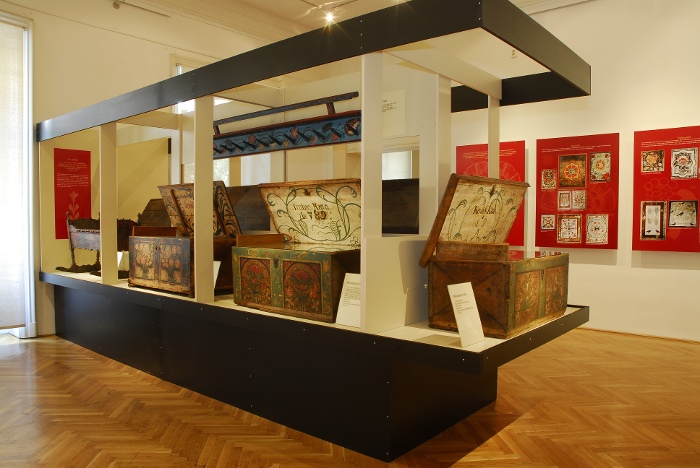 So, who were the Umlings, who made such a decisive mark on the church interiors of Kalotaszeg for so many decades? What ornamental motifs typically appear in their work? Where did these - in the words of János Jankó - "foreign-minded" decorative elements come from? Whom did the Umlings imitate and who later imitated them? The exhibition combines previously diffuse archival material, the Museum's own material holdings, and the collections of the Transylvanian Wall Paintings and Painted Ceilings survey program of the State Centre for Historic Monument Reconstruction and Restoration and the Transylvania Trust Foundation of Kolozsvár to present the unique life's work of this family of painter-carpenters, and in doing so, to address any number of intriguing questions that arise in conjunction with the Umling name.
Curator: Margit Kiss