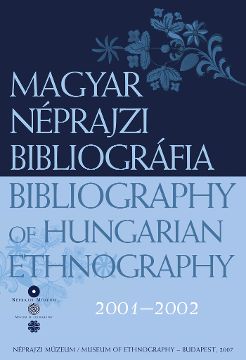 Bibliography of Hungarian Ethnography 2001 - 2002
Magyar néprajzi bibliográfia
Néprajzi Múzeum, Budapest, 2007. 312 p.
1,400 Ft
The current bibliography of Hungarian ethnography, first edited in 1971, has been published since 1989 to 2004 by the Library of the Museum of Ethnography.
Since 1995 the complete material of the bibliography can be searched in the online bibliographic catalog.
Since 2005 the bibliography exists only in online edition, the printed version in no longer published, but the contents of the previous editions are available on our website.
Beyond the works published in Hungary the selection comprises works dealing with Hungarian ethnography written by authors living outside the border, as well as, works of Hungarian researchers published abroad. Due to the increasing inter- and trans-disciplinarily of humanities in Hungary, the bibliography includes not only ethnography, folklore and anthropology but also related fields of social history and sociology.